Charleston Roof Leak Detection Services
Leak Masters USA of Charleston specializes in roof leak detection for the Greater Charleston, SC area. Flat roofs are more susceptible to water damage compared to slanting roofs. The main cause of this water infiltration is due to the water collecting on your roof. This can be due to excessive rain or technical and engineering oversights making the roof susceptible.
We use an arsenal of thermal imaging and other moisture locating techniques to detect the water leak . We also offer a full range of repair solutions. Please do not hesitate to give us a call us today. We can send out out one of our Charleston roof leak detection teams to your location and assist in diagnosing the source of the water infiltration issues with your home or business.
According to a recent survey from the National Roofing Contractor Association, the primary reason for roof leakage is attributable to 4 main reasons:
Poor Workmanship.
Poor Design.
Poor Maintenance.
Material Failure
How do I know if I have a roof leak?
If you are experiencing the effects of a long-term roof leak, you may see discoloration on your ceiling. Dependent on the angle of the ceiling in your home or business, water can pool and soak the drywall.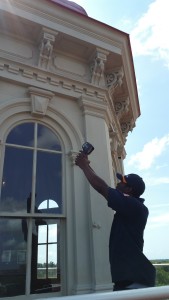 Given time, even roofs of the highest quality will experience trouble. When you start to experience roofing damage Leak Masters USA can help identify the source of the roof leak caused by wind damage, hail damage, or the usual wear and tear. Our Technicians are experienced in inspecting a variety of roofing materials to ensure you get the correct service for your home or business. Call us today to schedule an estimate for your roof leak detection needs.
Contact us today for more information about our roof leak detection and other leak detection services!