Reliable Concrete Crack Repair Services in Charleston & Surrounding Areas.
Need Concrete Crack Repair Services?

Get a Free Estimate!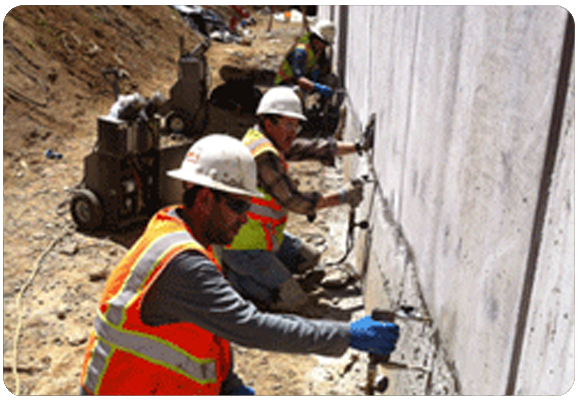 The Benefits of Epoxy Injection for Concrete Crack Repairs.
Structural Integrity and No Future Spalling Issues:
Structural integrity is regained, water intrusion is stopped, steel is encapsulated by the epoxy thereby halting rust, resulting in no future spalling issues, and, more importantly, no further money going out on repairs. Spall are flakes of a material that are broken off a larger solid body and can be produced by a variety of mechanisms, including as a result of projectile impact, corrosion, weathering, cavitation, or excessive rolling pressure (as in a ball bearing).
Epoxy Injection Specialist.
Complete Consolidation of Cracks & Voids:
Epoxy Injection was introduced By Adhesive Engineering, a division of Hiller Aircraft in March of 1959 in San Carlos, California. There was no effective way of structurally repairing concrete at that time. They developed the procedures used today by structurally bonding concrete back together, stopping water intrusion, de-lamination, and rock pocket consolidation, to name a few. They hit it all, repairing dams, bridges, government nuclear plants, aqueducts, tunnels & structures worldwide. This company repaired damage caused by earth quakes, hurricanes and other disasters when called on.

Since the inception of Epoxy Injection, it's use today has come full circle. It has a longer pot life, can work with any type of viscosity, and has a wider temperature range for more friendly working parameters for consistent results. Also different seal materials, porting methods & pressures have come a long way, but essentially achieve the same thing, complete consolidation of crack or void with epoxy.
Epoxy Injection is designed for use by specialty contractors for structural concrete bonding, patching, crack repair, floor joint filler, spall repair, protective coating and surface restoration. Epoxy Injection provides solutions for extreme environments including underwater, corrosive, abrasive and extreme temperatures.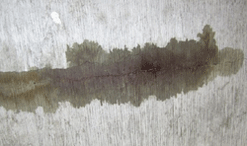 Epoxy Injection Methodology.
Successful Epoxy Injection by Trained Epoxy Technicians:
Since Epoxy Injections birth, epoxy's used today have come full circle. They have longer pot life, any type of viscosity to work with & a wider temperature range for more friendly working parameters. Also different seal materials, porting methods & pressures have come a long way but essentially all are trying to achieve the same thing, complete consolidation of crack or void with epoxy.
Successful epoxy injection requires proper techniques: proper surface preparation, proper seal, proper port spacing, proper port method, proper epoxy for the job, and proper pressure.
The term 'proper' is used a lot here, but the combinations are endless. Understanding the methodology is critical because each step determines the next. Improper techniques and untrained technicians result in unsuccessful results. The most common failings seen with untrained and unskilled technicians are: faulty equipment, improper ratio keeping epoxy from hardening and curing, half pumped cracks (short porting), and improper seal and materials.
Every repair needs the right combination of events to occur for successful epoxy injection. For instance you wouldn't use an epoxy seal on an active leaking crack because it would not stick, just like you wouldn't use a hammer drill to port a hair line crack. This would impact the crack closing the avenue to inject. You also wouldn't use resin epoxy on a ½ thick crack with one side access, it would never fill up and would run out the back. The more fine-tuned the procedures, the better and faster the repair.
We do the concrete crack repair right the first time! Time is money, experience is knowledge. Successful Epoxy Injection by trained epoxy technicians is a must. We have fixed unsuccessful repairs by others. In these cases, the repair will take a lot longer and in some cases, re-repair is not possible and concrete might have to be replaced.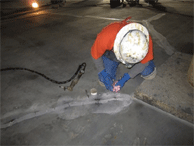 Repaired with Epoxy Injection:
Cracks to be injected in elevator pits are difficult to repair. Elevators are run by hydraulics and any leaking hydraulic fluid/oil in system goes down to the pit. Once oil penetrates the crack, it creates a bond breaker leaving the crack impossible to repair. Not to mention elevator pits are often the lowest point in a building and susceptible to water table intrusion. Parking structures often have oil contamination problems.
Parking structures have no shortage of old leaking, hand-me-down cars. This often leads to different methods of repairs to help regain structural integrity. Adding concrete beams, FRP (Fiber Reinforced Polymer) or even carbon fiber strip to name a few. Last but not least, mineral deposits can be another difficult fix with crack repair. Years of water intrusion can cause mineral, calcium and rust deposits. This can contaminate the crack from being successfully injected. Sometimes these cracks are more suitable for chemical grouting. This method is not always a permanent fix, but done properly can slow the active leak dramatically.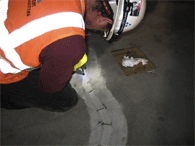 The Epoxy Injection Process:
A temporary seal is applied over the concrete crack and the other side of crack is also sealed if accessible. Entry ports (where the epoxy goes in) are placed approximately the thickness of member apart. Two metered pumps push the two components of epoxy (resin and hardener) down the hoses to a mix head where the two materials join. Passing through 3-6 inch brushes mixes the epoxy. The epoxy then comes out a rubber gasket at the end of the mix head. The gasket is applied on to the first entry port at the end of mix head with slight pressure, causing the gasket to seal. The valve is opened and epoxy travels in the concrete crack, (rock pocket, void, delamination of wood beam) until the epoxy reaches full depth of member to the second port. The gate valve is then shut off. The first port is sealed off, the process is continued to second port. Mix head is now placed on second port, valve is opened. The process is repeated.