Water Leak Detection Company.
Water Leak Detection Services in Charleston, South Carolina.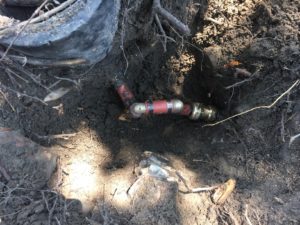 For the past 33 years, Leak Masters USA has been servicing the Greater Charleston, South Carolina area. Leak Masters USA is a family owned water leak detection company! We have been providing the area with home or business water leak detection services, slab leak repairs, underground pipeline leak repairs, plumbing repairs, as well as ground penetration radar systems. Our detail oriented and highly skilled leak detection technicians are always there to identify, locate and repair your water leaks.
Don't be fooled by any other water leak detection company or plumbers that may advise that one has to lift up all of your tiles or carpets, or create massive holes in walls and floors in order to identify the location of your water leak. This kind of practice can be very costly and may cause more damage to your home or building in the process. We at Leak Masters USA of Charleston South Carolina use state of the art water leak detection equipment, which enables us to locate your water leak speedily and repair with as little disruption and damage to your home or building.
What may seem just on the surface as a small water leak problem has the potential to develop into a major issue. Don't wait for this to happen to your home or business. Save time, money and unnecessary property damage by giving the premier water leak detection company of Charleston, South Carolina a call today. We will send out one of Leak Masters USA of Charleston South Carolina teams to help you diagnose and repair any of your water leak issues.
Leak Masters USA is the leak detection company that you can trust.
Our services:
Plumbing Inspection.
Ground penetrating radar.
Water infiltration investigation.
Leak Masters USA
1810 Paulette Dr.
Opening Hours
Tuesday
8:30 am – 5:00 pm
Wednesday
8:30 am – 5:00 pm
Thursday
8:30 am – 5:00 pm