Charleston Professional Water Leak Detection Services!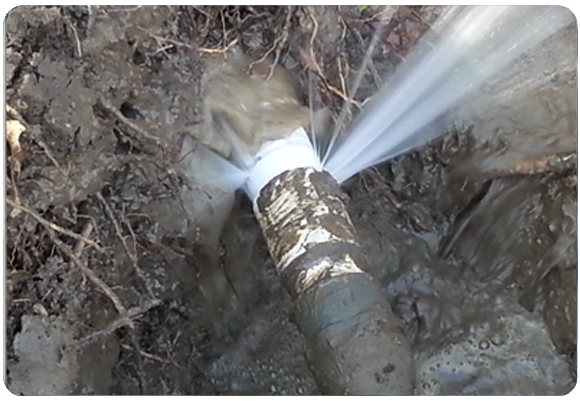 As a home or business owner do you not find it exasperating when you have to deal with a water leak? They always seem to rear their heads when you least expect them to. Whilst we know that with age, during renovations or building restorations plumbing features can wear out or be damaged, this does not help your frustration. Are you in need of a water leak detection company? Sometimes the presence of a water leak or underground water leak can be easy to identify:
The inspection of the water pipe beneath your bathroom sink can visibly show a water leak.
Consistent wet or soggy ground in your yard or near the foundations of your home.
A hissing noise.
An increase in water bills.
Notification of a suspected hidden water leak by your water company.
We at Leak Masters USA of Charleston understand that trying to find a water leak can be extremely frustrating. Although you may identify the water leak beneath the sink or in another location, you may not realize that the problem can stem from pipes that are not easily visible such as plumbing under the slab foundation. By attempting to repair the water leak yourself, you run the risk of causing further damage to water pipes which will only escalate the cost of repairs. This does not necessarily mean that you will require special leak detection equipment, but you should hire the services of a professional plumber to resolve the problem effectively.
At what stage do you require the services of a water leak detection expert?
Plumbing breaks can occur in a house, the plumbing under the slab, or underground outside your home or business. Sometimes one may think that water leaks which are present in the exposed parts of the underground lines are insignificant but there may be a larger problem which will remain hidden and unnoticed unless the correct steps are taken. The detection of these water leaks is hard to see with the naked eye and therefore the use of professional home water leak detection services should be considered.
You may see a soggy patch of water in your yard, but who knows what may be happening underground? Often this kind of leak is only noticed when there is a severe problem. By initiating a water pressure test and underground water leak detection equipment, Leak Masters USA of Charleston is able to find the leak in your plumbing line whether it is inside or outside of your home or building.
Leave your sewer and plumbing leak problems, as well as pipe leak detection services in the hands of our experienced leak detection technicians.
At Leak Masters USA of Charleston we use specialized leak testing equipment and leak testing methods to effectively detect leaks. It is through the use of these techniques and highly trained leak detection specialists that we are able to carry out leak repairs in both a timely and effortless manner. Contact us today!
Common problems detected and resolved:
Leaks caused by exposed piping that comes into contact with unprotected lines, re-bar, electrical conduits or heating duct work. The resultant friction causes the piping to become worn and leaky.
Repairing of kinked lines which are often the cause of a slab or main water line leak.
Plumbing lines that have been accidentally damaged by a concrete worker or other contractor. The nick or indentation eventually wears through and causes a leak.
How does the use of the right leak detection equipment speed up the process?
In order to identify the location of your leak and to fix it speedily requires the use of the right equipment that is operated by professional leak detection technicians. There are a number of methods that Leak Master USA of Charleston employs in water leak detection:
Electronic leak detecting: The water pipes are disconnected and pressurized with nitrogen. This makes a high pitched noise which is picked up through high powered head phones. The source of the leak is typically at the point of the highest decibel sound.
Sewer cameras.
Opening the identified area and doing a visual check.
Contact us today for more information about our water leak detection and other leak detection services!