Sewer Inspection Services
Leak Masters USA offers sewer inspection services and sewer repair services for the Greater Charleston, SC area. Have you ever asked yourself the following questions:
Why are my drains draining so slowly?
What is the cause of my drain backing up when I just had it cleaned?
Why is there a wet spot in my yard?
What is the reason behind toilet bubbling?
If so than you may have an issue with either your sewer lines or drain lines. Sewer camera pipe inspection is a tool available to plumbers for diagnosing chronic sewer and drain problems.
Leak Masters USA of Charleston has digital sewer pipe cameras, which can be used on sewer pipes or drain pipes. We have the ability to give the depth and location of the pipe that we are inspecting, and the ability to supply a video upon request. The most common problems we encounter with the pipe cameras are separated joints, improperly sloped pipes, nails in pipes, roots in the sewer tap, buried jammed backflow devices and damage caused by soil settlement (typically next to the house). Once the sewer inspection has been completed our Technicians will go over their findings in detail and provide recommendations on the next course of action fr your sewer repair.
Our Sewer Inspection Services Can Locate:
Collapsed pipes, Broken pipes, Cracked pipes
Buried backflow devices and buried cleanouts
Foreign objects in pipes
Off grade pipe (no slope or a "belly in the pipe")
Leaking joints and offset joints
Blockages and Corrosion
Root obstruction and Infiltration
Sewer taps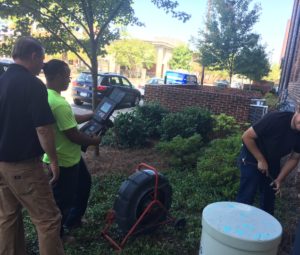 Our Sewer Inspection Can Be Used For:
House & service laterals
House clean-outs
Drain lines and septic tank lines
Vent stacks, utility ducts, HVAC ducts
Service conduits
Water lines, floor drains, yard drains
Commercial plumbing systems
If you are ever in need of a sewer investigation for your home or business, please don't hesitate to give us a call at 843-637-4585 or send us an email at info@leakmastersusa.com.
We offer sewer inspection services for the following areas:
Charleston (29401, 29402, 29403, 29405, 29407, 29409, 29412, 29413, 29414, 29417, 29424, 29425, 29455, 29492)
North Charleston (29404, 29405, 29406, 29415, 29416, 29418, 29420, 29423, 29456, 29470, 29485)
Mount Pleasant (29429, 29464, 29466, 29482, 29492)
Goose Creek (29410, 29445, 29486, 29492)
Johns Island (29407, 29412 29414, 29449, 29455, 29487)
Summerville (29456, 29483, 29484, 29485, 29486)
Wadmalaw Island (29449, 29455, 29487)
Ladson (29456, 29486)
Hollywood (29449, 29470)
Moncks Corner (29461)
Hanahan (29410)
Kiawah Island (29455)
Isle of Palms (29451)
Sullivan's Island (29482)
Contact us today to set up an appointment for our sewer inspection services!